Stanford, Palo Alto, California où j'assiste au Stanford Professional Publishing Course. Une parenthèse dans le quotidien pour changer d'air et "to think out of the box".
Pour le moment, il s'agit du pré-séminaire pour les internationaux qui durera trois jours. Une première conférence par Martin P. Levin a pour objet de nous présenter un état du marché américain. Il s'agit d'un marché mature relativement stable avec une tendance à la best-sellerisation (arbres qui cachent la forêt d'une baisse du tirage moyen). Je vous passe les détails de l'argumentation mais c'est une analyse que l'on peut faire ici aussi : de fortes menaces sur ce marché… mais aussi des bonnes nouvelles :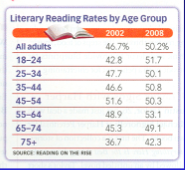 L'accord Google. Je sais que Google fait très peur ici mais je crois également que c'est une opportunité,
Les dépenses d'éducation,
La technologie mobile,
Les médias sociaux,
Kindle et les autres.
La seconde conférence par Robert E. Baensch était intéressante pour ceux qui cherchent à s'implanter sur les marché des BRIC (Brésil, Russie, Inde, Chine)… ce n'est pas mon cas 😉
Aujourd'hui nous partons faire du "tourisme" puisque nous serons chez Weldon Owen, City Lights Bookstore, Wikipedia et Ning.
Comments
comments